Hubby does laundry and does a great job too. He knows not to wash any of my knitting. This works great. It only works if I remember to take out my alpaca and wool Keri Mitts from the pocket of my hoodie sweatshirt. Yep I left them in the pocket and threw the hoodie into the wash. Now Hubby doesn't check my pocket since I should know better.
Before: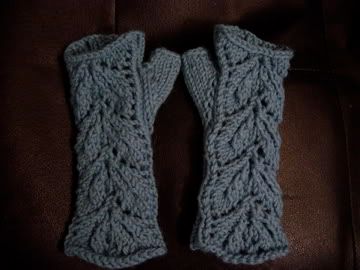 After: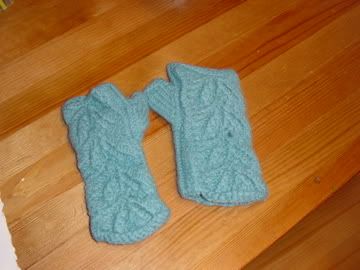 I can not even get my hand into them a little.
So here I was a little upset and thinking about the pair I made last year. I loved the yarn, have no clue what the yarn was but i do know where I bought it. My LYS. Great store. Yes It is just a little hole in the wall (the whole store could fit in side my living room) but what makes the store great is the owner. She is wonderful. Even when I bring my kids with me and they go crazy, she is fine with it. "Kids can not break the yarn" she says. The store had a very homey feel.
I have been in other store where we were followed to make sure my kids did not touch anything - I have not and will not go back (my kids are well behaved but anyone with kids know that sometimes they do get into things).
Anyway i know that she changes the hours (summer vs winter) and since the last time I got a chance to go it was summer hours) so I checked the website and AHHHH!!!!!! She is CLOSING!!!!. Dec 24th is the last day. Yes there are other yarns stores and the internet but I will miss this little yarn store. = (
Hopefully I will get to go soon. Even if I do not buy anything (yeah right) I would like to tell her how much her and that little store meant to me.