The one thing that really made my weekend - IT SNOWED!!!!! Sunday I woke up knowing that it might snow later in the day but the weather guys go it wrong. There was about an inch of snow. Everything looked pretty. As we all went about shopping and trying to find a tree we played each time we got out of either the car or store. It totally made my day. Of course I thought about taking a picture but by the time we got home I totally forgot.
I have been knitting (I actually surprised myself with how much I did do)
Here are the Fawkes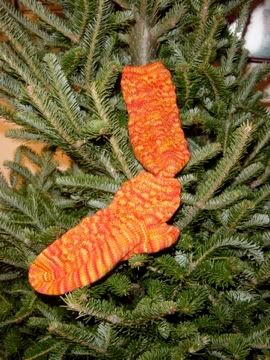 I used the left over orange Cherry Tree Hill yarn from Hubby's socks. These were quick (once I restarted with the right size needles). They are a Christmas gift for my SIL.
These socks are for my nephew. ( They will be done tonight) I used Swish on size 6 dpns. Simple 3x2 ribbing. These went really quick.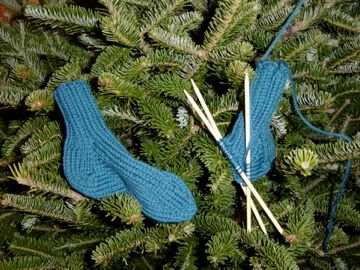 Same color as his hat and there will be plenty left over to add the ear flaps to his hat.
I also added a few inches to the Son's sweater. I know have to start the sleeves so I can join them together.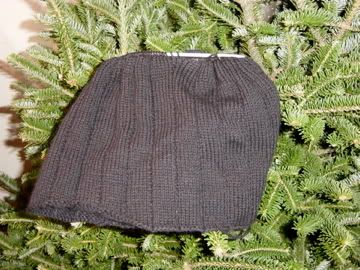 I am also knitting a pattern I wrote last year for one of my aunts. I made her a pair of fingerless mitts and I took lots of notes so I could later write a pattern out. A fellow co worker asked me to make her a pair and I thought it would be great to see how well my notes were. She gave me the yarn so I am not sure what it is. It really is a pretty purple.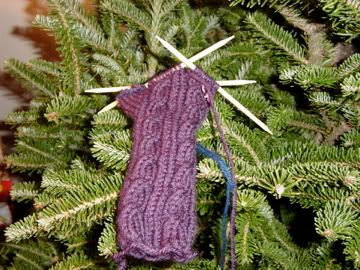 Some one else I work with showed me a picture of these little knitted hats that go on wine bottles to dress them up. She asked if I could figure out how to make it and teach her how. I did it in about 10 minutes. My daughters like it very much - since it also fits Barbie's head.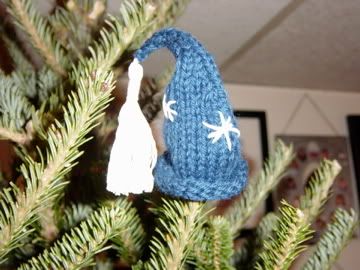 In Hubby news, all test are normal and hormone levels are perfect. He will have to be tested every so often to check and make sure his thyroid is working enough. Other then that we just have to keep an eye out for signs of low function.
I want to thank everyone for the emails and comments during this whole thing. It helped, it really did. = )