Okay I had to do that. My yarn - yarn I spun- is finally finished and plied it. The blue went really nice and fast. It is pretty much even too!. Then I spun the orange and well I figured out that I should not attempt spinning when I am sick,upset or pissed. In other words it is uneven and over twisted in spots.
The colors are pretty true. It is 100% merino from Rhinebeck.
I finished the nephews set.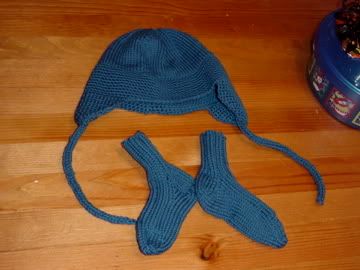 Hat and socks made out of Swish in Deep Ocean.
I gave the Dragon scarf to Son and he loves it. I took pictures and well this is the one I love.
Love My Kids!!! They always seem to know when I need a break or laugh. In the past 3 days I got a bad sinus and double ear infection, our car went (head gasket = big repair bill) and the cabinet in the kitchen decided to fall on Hubby (he is ok). Well bad things happen in threes so we are done for a while, Right?!
=)