I have been knitting a little slow lately (I so can not wait until fall) so instead of finished items to show I have works in progress updates.
Hubby's sock is coming along well. I am knitting this pair toe-down (I normally do toe up but I wanted a change of pace). The pattern is from
Sensation Socks
(love this book and I really want the new one)The yarn is Cherry Tree Hill in variegated blue and orange (Mets,Islanders, and Bear colors, of course).I am pass the gusset decrease and now on the foot.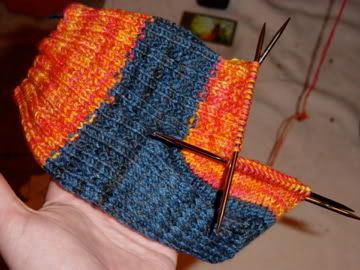 I have doubled the yarn that I used on the first sock and that changed the needle size from 00 to 3. Much easier on my hands and I can knit for awhile.
This is my pair.
Vog on
from Knitty. The yarn is
Memories in Rocky Mountain
from Knitpicks. They are anklets and I am loving them. I just finished the decreases and now I am on the foot (these are also toe down).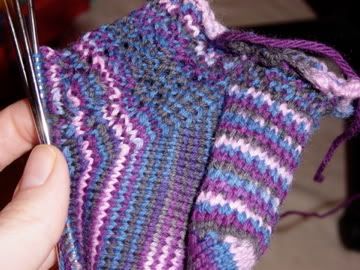 MS3 update: I love the yarn my mommy bought me. It is beautiful. It is Jade Sapphire Exotic Fibres Lacey Lamb in a beautiful blue (picture does not do it justice). I swatched in 2 different needle sizes to see which needle size I needed.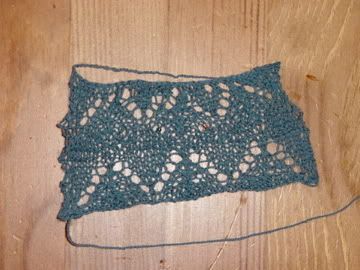 There was a post about the yardage needed and it is only 780 yards. If I use what I swatched this stole will be like a cobweb stole, but I can double the yarn and it would be a little heavier. I am waiting for my needles to arrive so I have time to swatch again. The important question is at my gauge will 825 yards (the doubled length) be enough? Or should I stick to single yarn and have alot left over? (I know - the problems I have)
This teaser picture is a christmas gift. That is all I am saying. I love the yarn so I took a picture to show (again picture does no justice what so ever).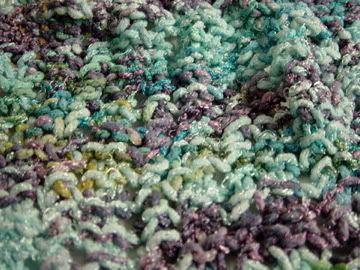 I have other things done/almost done that I just can not show just yet. I have pictures so when the items are in their new homes I will post about them.
In other news: We have a new additions to our family. My beloved (as beloved as a tree frog can be) died. That is the way of things. That left us with a fire-belly frog, 2 adults and 1 baby toad that we found in the yard (boys) and our The Anole (yes that is her name). Hubby wanted to get another anole so The Anole would not be lonely.
Here is the new anole (he is a
Bahaman Anole
). (He is shedding)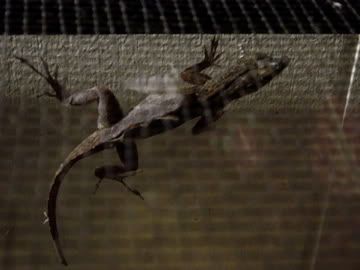 He is an adult. The Anole is still growing . She just finished shedding so she looks very pretty now.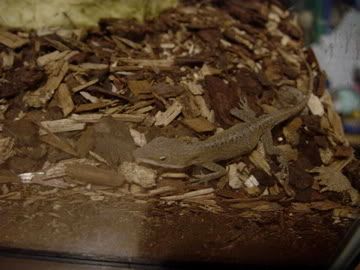 (She is also a brown anole and a girl!! Great I am going to be grandmother to lizards, I can just see it)
This is Godzilla.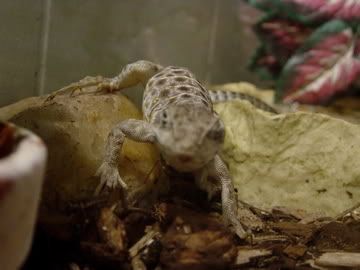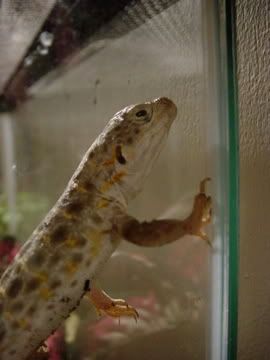 She is a
Leopard Lizard
. She is very pretty and laid back. (I am NOT going to do the handling on this one). She is Hubby's new baby. I wish I took a picture when he was holding Godzilla. It was adorable. Godzilla eats crickets. The big ones, not the little ok almost cute crickets, no the big ugly loud chirping crickets. We bought 10 figuring that would do for now. Well as I type this the crickets are chirping. Did I mention they chirp loudly? Only the biggest are alive now (thank you toads) and I am hoping that Godzilla hurries up and feels like she is home and starts eating these noisy things. Everyone else is eyeing them but the few crickets that are left are to big to eat. Oh well, I doubt that they will keep me up at night - Hubby snores too loudly.=).