(Personal Note: Aunt I - If you are reading this before a certain girl's birthday, please make sure she is not watching)
Happy Birthday my baby boy. Well you really are not a baby anymore, you are growing up so fast.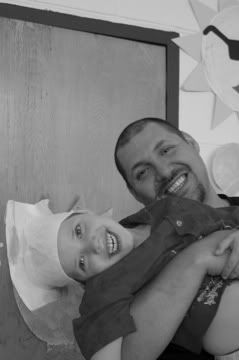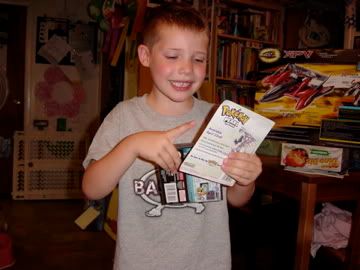 We tried to dye his mohawk red and blue for the forth but he could not wait and we rinsed way to early. The red turn his hair slightly pink and the blue did nada. Although he does look cute in a pink shower cap.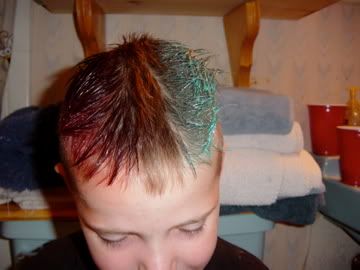 Yeah!! I finished something. Well actually I finished 2 things. My little cousin is having a birthday very soon. For her birthday I made her 2 things. The first thing is a bag. I based it on the Fat Bottom Bag from
Happy Hooker
(it is about crocheting - get your mind out of the gutter). (Hey Aunty - I learned how to link) Okay back to the bag - I changed the pattern and added a snap. I know big surprise I changed a pattern.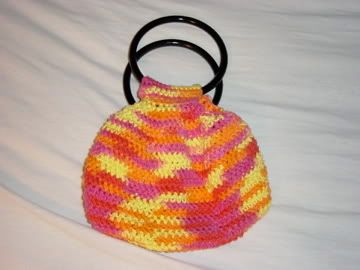 Second is the
Pineapple Triangle Scarf
(look another link - ok I am done now ; ) ) by Crochetmama. It is a cute scarf and I worked it up really quick while I was watching the All-Star game (Go National League - even though you guys lost). Then of course I blocked it to make it look pretty.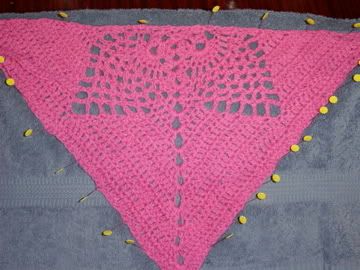 Then it was all dry and looking very lovely.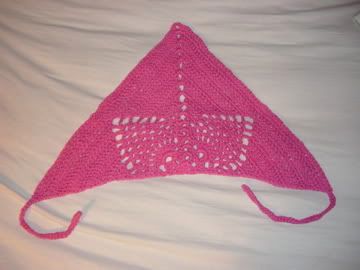 MS3 KAL (mystery stole 3 knit along) news: I swatched and it looked nice. (yes I shortened the swatch - I hate swatches, but I do knit them when I really need too) Here it is blocking.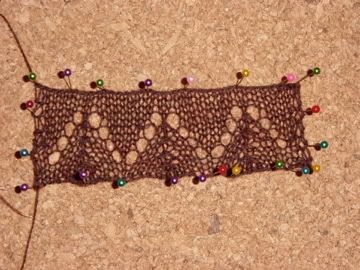 Here it is all dry.
I just do not like the yarn for this project. It is
Knitpicks Shadow in Redwood Forest Heather
. It is a pretty yarn but I have seen the charts for the first 2 clues and the two really do not go. My Mommy (A.K.A. an angel) is surprising me with new lace weight yarn on saturday. Yeah I can not wait.
Alrighty now I am going to veg out in front of a fan and try to cool off.