Hubby went for his biopsy Friday morning. The doctor had to do it twice. Now before he went I read up on it and everything you read tells you it feels like a bee sting. WRONG!!! The needle going in you do not feel, when it comes out it hurts. Having it done a second time in the same whole - well he probably now knows somewhat what childbirth feels like. Now Hubby is very good with pain (heck he played football on a broken leg for weeks) and for him to tell me he was in a lot of pain tells me it was bad. This Thing that is growing in him is pushing on his collar bone so much that is is about to break. We found this out friday. Why didn't any of the other doctors tell us this? Why did we find out from the doctor doing this test? i do not want to think about what that could mean- -that it is so big that it is pushing a good size bone almost to the breaking point! We were told it just a nodule and it needed to be tested. When I hear the word nodule I think the size of a pea. Peas do not break bones or push them out of position.
Okay I am done talking or thinking (well I should say I am going to try to be done) about it.
The doctor should have the results Thursday. Anyone want to guess how much sleep I will get until then? (of course the RA may help me sleep from exhaustion - for once it may be a good thing). I also see a lot of knitting.
I finished one fingerless mitt.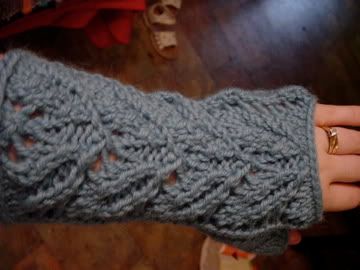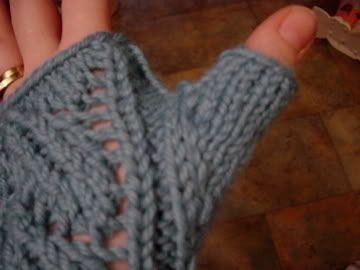 I will hopefully cast on the second during football today (Go Bears!!!- yes I know I am from NY, but the Bears are on the top of my list followed by the Colts, Patriots and Titans.) I will also see how well I take notes. =)
My Daughter turns 5 today. Wow. I wish I could slow down time just a little.