Remember the last time I dyed yarn? I dyed 440 yards in orange and black and slightly felted it. Well I learned something a little important with that yarn (besides the part where I watch the pot to make sure it does not boil and felt the yarn). When I skeined the yarn, I had wrapped it around 3 chairs and only tied it loosely in 2 places. I also hung it outside to dry. On a windy day!!! Note to self: If I hang yarn outside to dry and it is a little windy maybe I should tie it in more then 2 places and it might help if I make sure it doesn't fall off the hanger and blow around the yard. The slight felting was not the problem, all of the knots were. It took me almost 3 hours to untangle that mess. I am loving how it came out. I think it will become socks for Halloween. (Next Halloween most likely)
Okay, back on friday while I was waiting for Hubby to finish hie pre op testing I finished the Harlot Scarf.
I used 2 hanks of Plymouth Yarn Baby Alpaca Grande on size 10.5 needles. If it ever gets cold here I could use it. Here it is the end of October and the leaves have barely changed. Yesterday it was 75 degrees!!! This is crazy.
I also finished another Christmas gift.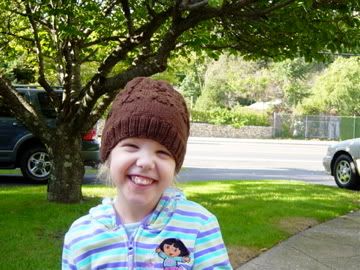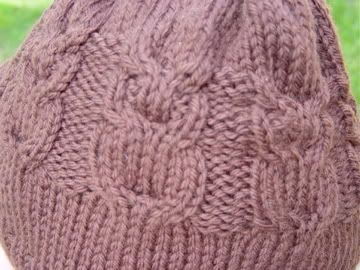 A
Owl Cable Hat
. Budha is modeling it for me. It was really neat to see the owls form while I was knitting it. I used Knitpicks
Swish in Truffle
. It only took a little more the a ball to make this hat. I have enough to make another one and I am tempted to make myself one.