Okay now that the telling and pictures of Rhinebeck are done , now it is time for the fun part. What I bought!!!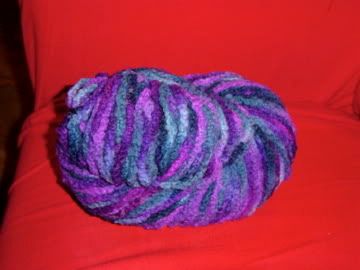 This was my first purchase. It is from High View Farm. 100% wool and 153 yards of bulky prettyness. It is bulky weight. I am thinking maybe a scarf and hat or hat and mitts.
At the Spinning Mill I bought this:
460 yards of Merino hand dyed. It was the last one in this colorway. This might become a shawl.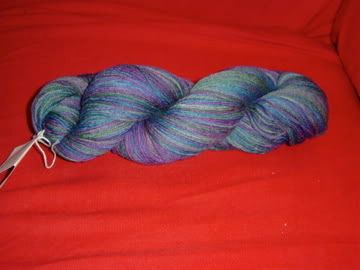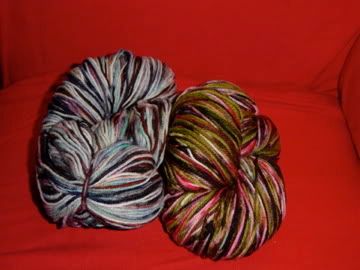 Sock Yarn!!!
The top one is from Koenig Farm. It is hand dyed 425 yards of superwash merino. The color is called Lily Pond.
The bottom two, well I lost the receipt and there are no tags. But I do know it is fingering weight superwash wool. Each one is over 400 yards and I got both for 20 bucks. They are from I think (but I am not sure) Pucker Brush Farm.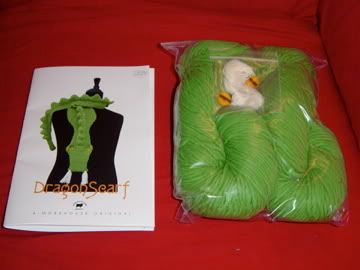 This is from Morehouse Farm. It is a dragon scarf kit. I love there book and when I saw their booth I was so happy. I bought this for The Son.(shhh... it is a surprise) He is going to love it.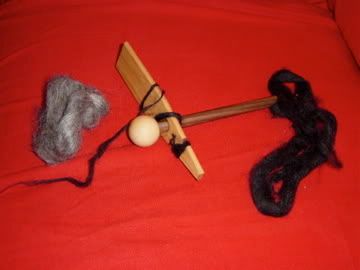 This is the hand spinner. It is called a Rakestraw Spinner. I was spinning in about 2 minutes. The roving on the left is from New Zealand. It is the same wool that was used for the clothing in Lord of the Rings. I have already spun it up and will post picks as soon as it is dry.
Since I bought a spinner I of course needed roving. = )
I could have totally gone crazy.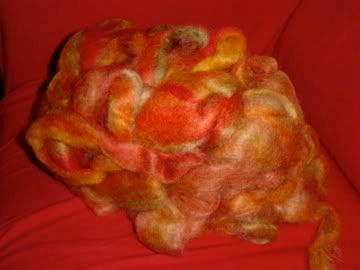 This is Berkshire in the color autumn. Eight ounces of softness.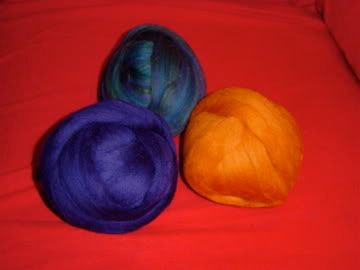 This is merino. There is blue, orange and a mixed color (blues and greens)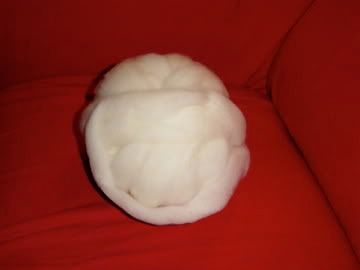 This is Corriendale. I am spinning this right now and loving it.
I originally didn't plan on buying a hand spinner. I had asked for one for christmas. We had seen tons of drop spindles and Hubby said why not. Right after he said that I looked up and we were in front of the Rakestraw spinner tent. I had seen this on the internet and it looked easy. (it also said it was easy on the hands- big plus) Like I typed before I was spinning within 2 minutes. Really easy and fast. Of course there were also spinning wheels everywhere. Hubby kept looking at them and he told me why not. So now we are looking into spinning wheels. I know it is a big ticket item and that is why I really haven't looked into them. Hubby's case is this: He has his video games and his way of thinking is that if I really want one , I am worth it. He is so sweet. He knows I would not spend the money on myself, so he is going to get me one. (first I have to make up my mind about which one I want)
= )