Well the Stepson is here this weekend so what am I suppose to do with him around? Not work on his blanket. Ok no problem there are lots of things I could work on. The thing is that well it is just today that I can not work on it, tomorrow when he goes home it is back to the blanket. I am almost done with number 12 then I get to sew it together. I am hoping to get the starting the border by the end of tomorrow.
Anyway I needed something short and sweet. I have the new Cat Bordhi book "New Pathways for Sock Knitters" and well all the trial socks are baby socks. Short and sweet. The thing is that you need stitch markers marked A,B,C, and D. I do not have anything like this. So what am I to do? There are plenty of beautiful stitch markers on Etsy and other online stores but problem a) I need them now and b) I can not see spending up to $20 for stitch markers that I could easily make.
Years ago I use to do a ton of beading and I still have a good amount of the stuff left in one of those plastic shoe boxes. So I pulled it out and got to work (after I raided the Daughter's beads for alpha beads)
Here are the results. (I seriously have to try to take better pictures)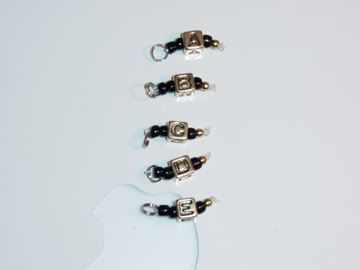 Then I was like 'wow that was quick and easy I think I will do some more'
Here are some green ones
Here are some what I think are Chinese characters ones:
These look kinda like eye balls but they are really swirls:
Last but not least I have for ya these stones wrapped in gold wire ones:
Not bad for an hour huh? I also of course went thru my beads and organized them so that took about another hour. I have this really big urge to run out and buy more beads. Though really I would like to get some different alpha beads and make another set.
Well I am off to try one of those socks!!!
(I am not mentioning my health since well I do not want to jinx anything)
=)