Wow the week flew. Hubby caught my bronchitis and then he was a real sweetie and gave it back. The second time was way worse then the first time around. Our doctor said we were really bad. We have both been home for most of the week on bed rest trying to kick this so it does not become something worse.
In the knitting department I have been working on StepSon's blanket for his B-day (2/14). I am now on square 9 of 12. Then I have to sew it together pick up the border and then sew on the backing (so I do not have to sew in about a million ends - YEAH!!) I can do it (since I really do not want to let him down)
When the mindless knitting became annoying (how often does that happen?!) I started this shawl I have wanted to make for a long time. Over the past few weeks I have tried different lace weights and well my fingers would cramp up and I really could not do much. So I searched the stash and found a yarn that I bought in Rhinebeck, that I had wanted to make into a shawl of some sort. Well worsted weight is a lot easier on the hands and boy does it go quick. I do not think I will do all 14 repeats of the main chart sine I really do not want a blanket, but I will do enough to have a nice large warm shawl. The lace version asks for 700 yards in lace weight. I am using 460 yards in worsted.
yarn:
shawl so far:
chart 1 and 1 repeat of chart 2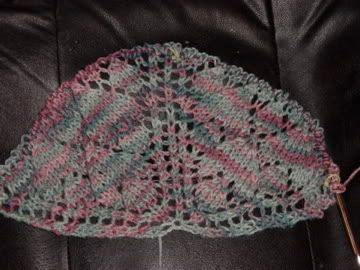 Well it would help if I said what the pattern is (duh) Adamas by Miriam Felton
Snickers news
She had her first vet visit. She has a mild case of Kennel Cough and some parasite common in puppies. She will be fine but I get the wonderful job of giving her medicine. That was not fun until I went to the pet store and bought these treat pockets. Put the pill in and presto pill giving is easy!! I am telling you they have something out there for everything!!
Warning Cute Puppy Pics: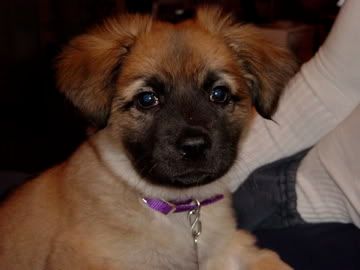 Pic of Rhinestone collar (my girls influence)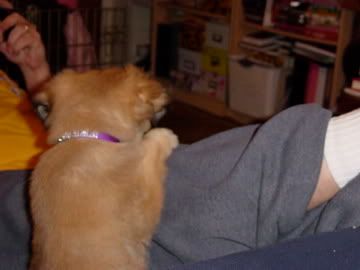 Her favorite chew toy: Hubby's socks (notice holes)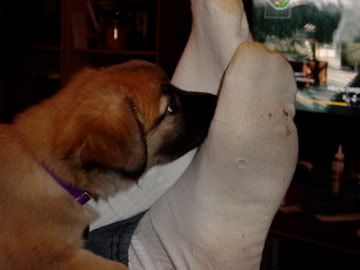 Her favorite toy (hint it is not any of the ones we bought (6) in the pet store)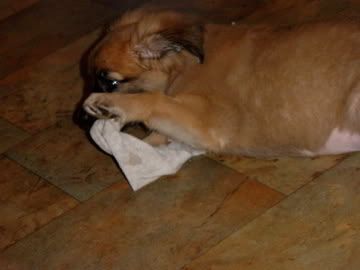 look closely and you will see one of my socks (not handmade, store bought and I do not wear them since I really do not like them at all)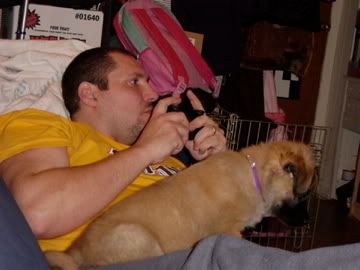 She keeps Hubby company when he plays his video games
Ok I am done with cute puppy pics
=)