Here is another one. I made my MIL a lace scarf. I found the pattern in Knitscene (fall 07). It is called Teardrop Scarf. I thought it was cute. It is lace and it has beads!!! Yummy. I used Knitpicks Shadow in Redwood Heather (I think the color is discontinued) on size 4 needles. Beads are from Walmart i do believe. They are glass and I think they go pretty well.
Of course I modified it. I only did 2 repeats and well after blocking it is plenty big.
Ok here is the pics: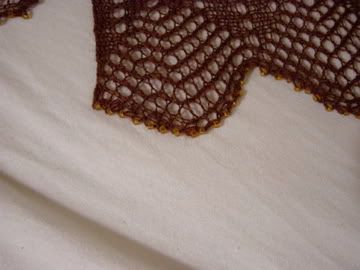 I still have yarn to show you - yes I did make it to the LYS before closing. Ahh.. great times!!
I also signed up for
101 in 1001
. Basically you make a list of 101 things (nothing vague, it has to have an end) and do them in 1001 days (that's 2.75 years). I am still making a list but should be done tomorrow.
I also started, scratch that I finished it already, a panta for One Skein KAL. Raverly is dangerous, but oh so fun!!!
Yes I am in Raverly. Yes I know I haven't mentioned it. It slipped thru. My name is Qutecowgirl over there. (I know big surprise)
=)