I know the last post upset a few people. I didn't mean to , I just wanted to get as many people as possible to be aware. I know that the kids were I work are told to speak out about anything that happens, which is a good thing, but it also know by everyone that works with them that they do not report everything. I just think it is sad that in this day and age, we as human, can not treat everyone equally. I have read other parts of that blog and a little while ago the author had an incident were some one came up to them and became very angry (almost to the point of fighting) because he was in a wheelchair and his friend had pulled up to the curb so he could get into the car (there was slush and ice). What bullship is that. I know people in wheelchairs, I even have a friend who is in a wheelchair. I also know that there is a pretty good chance that one day I will be in a wheelchair.
Ok I have to stop. Lets go back to nice things, wooly things.
I made a pair of socks for Son.
Yarn: Swish Red Pepper
Needle: size 5 dpns
Pattern: 4x2 ribbing with short row heel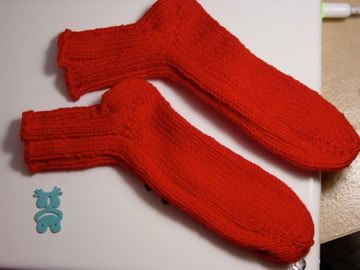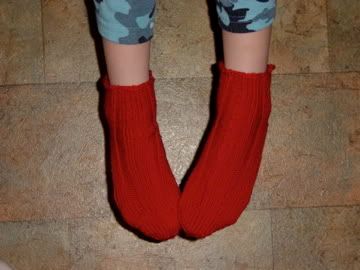 He wore them for a long while and then he finally took them off (after 2 days). He is so sweet. Of the 3 he is the one who really loves what I make. He was very upset when I took the socks I made him last year away, they were way too small but he didn't care.
Here is something out of left field...
Here is a picture of Whinny or guinea pig. We got her almost 3 years ago when the Wonder Pets just arrived on tv. My kids thought the guinea pig's name was Whinny not Linny.