Now that I gave my mom a heart attack, please keep reading = )
Ok Jill guess a spinning wheel , not yet =( , and a new baby. Well she was close. It is a new baby, just not human.
Meet Snickers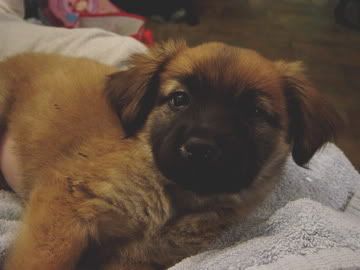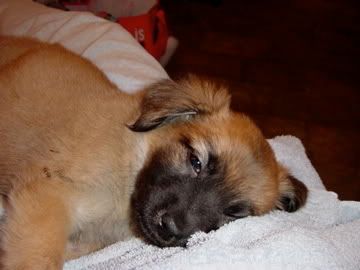 8 week old girl. She is a mutt, though I do she some German Shepherd in her face (especially when I pick up her ears) We picked her up tonight. We adopted her from a local animal shelter. It was so hard to pick one. Most of her litter was up for adoption and if we had the space and money we would have taken all 6 of them.
The Kiddies have been asking for one for a long while and we told the older 2 when the baby was older. We figured now was a good time since well I can not have anymore babies.
The drug I just started is a chemo drug. It does bad thing to my eggs. I can not get pregnant when I am on it because a) the chances keeping the pregnancy to full term is low and b) if a baby is born the chances of having many abnormalities is very high (I won't even go into what abnormalities - my dr went over them just so I would realize the seriousness of it). The drug company says to wait 3 months after stopping the drug before trying to have a baby. My dr says at least a year and then she doesn't even recommend it.
I know I know I have 3 wonderful kiddies but I still do not like the idea of being told that is it. we have decided that I should take the drug, I need to get my RA under control and knock on wood it seems to be working!!