Well over the weekend the rest of my etsy shopping spree arrived.
This is the only yarn I bought (shocking I know) It is from
NH Knitting Mama
. 100% alpaca lace weight in Color of Midnight.
Ok picture does not do it any justice what so ever. Trust me it is much prettier in person!
Now onto roving. Yes I know I was not suppose to buy more until I spun half of what I have but, a) it was my christmas gift and b)when I get my wheel I will need something to spin right?
Anyway this one is from
Enchanted Knoll Farm
. Hand dyed Merino in Mermaid. I spent a good amount of time petting this one!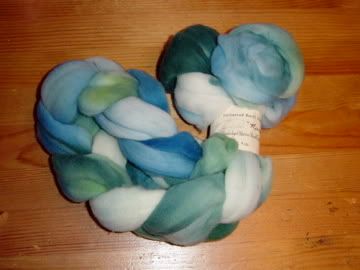 included was a little sample that I fell in love with, I know I am easy when it comes to fiber, very pretty, very soft and very much want more of it.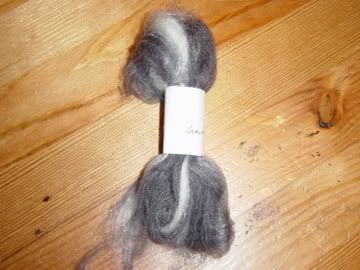 can not really see it in the picture but there is sparklie stuff in it too!
Last but not least I got this one. 100% bamboo. Ooooooo. Outside of my limited spinning comfort zone, but hey I need to move beyond it anyway, how else do you learn?
It is from
loop
. She has very beautiful stuff and again I want it all. Funny little side story: The owner went to school with my Hubby. What are the chances that I move here to Long Island, she moves away and I wind up buying something from her. Small world!!
Tomorrow I have some big news to tell......but you can't guess.
=)