Okay here is the rest of the yarn I bought.
This is Cherry Tree Hill's Sockittome in Jewels. I love this yarn, well actually I have yet to meet a CTH yarn that I do not love. This is also the yarn that started the whole sniffing thing. There is just something about the smell. Yes I do sniff all my yarn and yes I know it is a strange thing to do. Next time you go to a yarn store ( a real yarn store not a chain craft store - watch people. I can almost guarantee someone will sneak a sniff)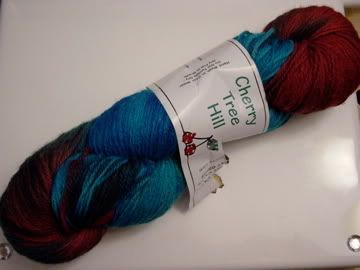 450 yards of yummy.
This is Brown Sheep's Wildfoote. The color is Rock n Roll. I bought this yarn to try a new sock yarn and because of the name.
Very scientific.
Here is the plus part.
Keri
has been making these real adorable battlets, that she sells in her
Etsy shop
I have wanted these light dark ones that she has had a few times. She also had a lovely candy cane battlett. I checked everyday to see if it was there. Of course when I went to buy it, someone else had bought it (darn christmas shopping - making me wait). When I saw a valentine's day version I bought it right away. This was a friday night. Monday I came home from work and there it was. Why yes I did rip into it before I even had my jacket off.
Here is Hearts Afire. 95% BFL (Bluefaced Leicester) and 5% icicle (spark-a-ly) a little over 3 oz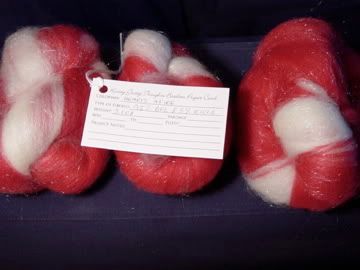 I tried to get a good shot of the sparkle but my camera didn't want to cooperate. It is very soft and I really want to spin it now. I am a little torn between spinning it now on my hand spinner or stashing it until I get my wheel. Well it is sitting next to me right now and well I think I will hand spin it.
I have already ordered different ones from her. I am also awaiting something else in the mail too and the waiting is becoming really annoying.
=)