1 hour!!! That is what you call fast!! Especially with my RA flaring. Ok granted that the yarn is extra bulky and I used size 15 needles but hey it only took an hour!! It is also for ME!!!!!
The yarn came from Rhinebeck.
Vendor: High View Farms
100% wool (maybe merino it is soft and I have been wearing for a while and only took it off cause I was getting hot)
153 yards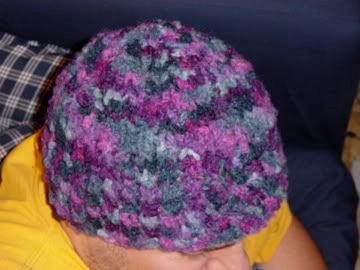 (Hubby is modeling for me while putting a lego set together. He is such a good sport!)
I still have a lot left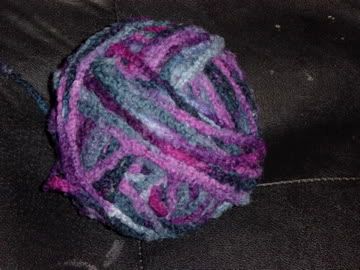 OK so there is nothing in the pic for size reference but the ball went from a basketball to a volley ball. I sense a matching scarf coming. = )
I also made a Panta (think headband/ear warmer) for the One Skein KAL on Raverly. This was also quick. I used Knitpicks Swish in black, size 7 needles and the pattern is from
DROPS
. My gauge was a little smaller, which turned out fine since I didn't want it so wide.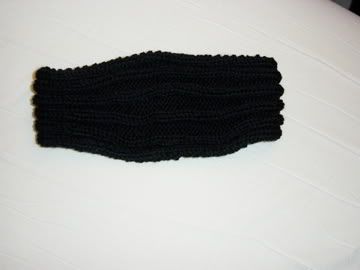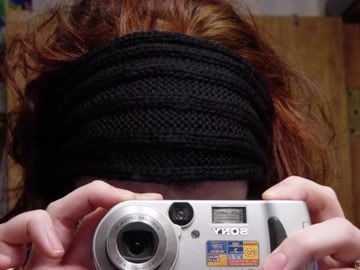 I didn't have anyone around when I took this picture so I had to do the mirror thing. Boy, is it a pain to take ones picture using a mirror.
Last year I made myself a pair of fingerless mitts. I was still in the transition of learning how to knit more then rectangles so needless to say they did not come out right. They were big. I could fit both of my hands into one. For a long while I have wanted to frog them and re-knit them. Well I finally got around to it.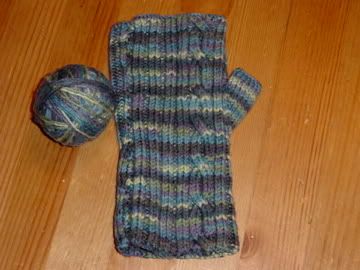 Here is a pic of 1 frogged and 1 right before frogging. The yarn is Artyarns hand painted stripes in color 123. I love this yarn it is like cream. I am going to reknit fingerless mitts since now I have none.
I know I also need to blog my 101 in 1001 list. I only have 81 things but I think it will be a work in progress since it has been a few days with not much added. Hopefully tomorrow. I also have other WIPs and FOs to blog about and pretty yarn to show.
=)